Hi! As a lot of you know the Jane By Design summer finale airs on Tuesday at 9/8c. It is the 'summer finale' but without some help from fans it could become the 'series finale'. That's why a lot of us on Twitter will be trending #JaneByDesign on Tuesday July 31, 2012. Times for every time zone:
Eastern: 9pm
Central: 8pm
Mountain: 7pm
Pacific: 6pm
Not sure which time zone you're in?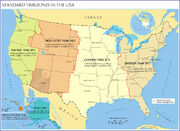 Thank you and please spread the word!!!
j u s t s o m e c h i c 16:28, July 30, 2012 (UTC)